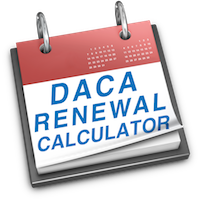 A person who was granted DACA and who continues to meet the guidelines for DACA will be able to submit a DACA renewal request. CitizenPath recommends preparing the DACA renewal application (Forms I-821D, I-765 and I-765WS) 6 months (180 days) prior to that person's current period of DACA expiring. The applicant should mail the application 5 months (150 days) prior to the expiration date of your current DACA grant. This leaves the applicant a recommended 60-day window to apply.

Learn more about When to Renew DACA
DACA Resource Center
Find additional support articles and deferred action information in the DACA Resource Center
Social Security Number | Driver License | Travel with DACA
When to Renew DACA  |  What Happens After Filing Form I-821D
DACA News
No credit card or sign up required.