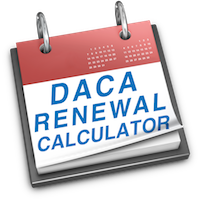 An individual may be considered for renewal of DACA if he or she met the guidelines for consideration of initial DACA and meets all the following guidelines:
Did not depart the United States on or after August 15, 2012 without advance parole.

Has continuously resided in the United States since he or she submitted his or her most recent request for DACA that was approved up to the present time.

Has not been convicted of a felony, a significant misdemeanor, or three or more misdemeanors, and does not otherwise pose a threat to national security or public safety.
To renew applicants must submit Forms I-821D, I-765 and I-765WS together. All three forms can be downloaded from the USCIS website. Or applicants can apply on CitizenPath in one seamless process. Learn more.
DACA Resource Center
Find additional support articles and deferred action information in the DACA Resource Center
Social Security Number | Driver License | Travel with DACA
When to Renew DACA  |  What Happens After Filing Form I-821D
DACA News
No credit card or sign up required.